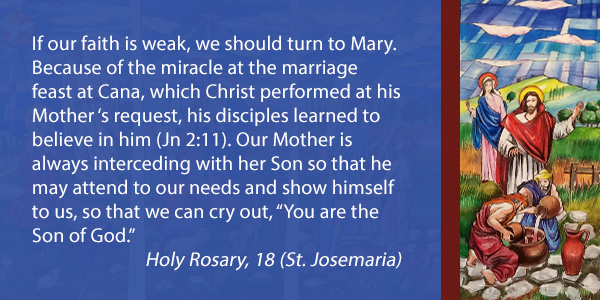 The "Marriage Feast at Cana" is very meaningful to us, because we attribute my husband Jason's healing to Mary's intercession.
When Jason had surgery almost five years ago, the doctors were very negative. 94% of people with a small malignant tumor which is surgically removed are cured. But he was among the unlucky 6% who had the cancer progress to stage 3a. The doctors said that his five year survival rate was only 40% and the chance for recurrence within the first year was as high as 80%. They all said that they were very sorry that this had to happen to such a young family. We prayed to Our Lady to intercede for him to be completely cured. We were sure that she had heard our prayer.
Five years later, two weeks ago, he went to see the specialist who told us that his recent CAT scan showed that he was cancer free. And the chance of recurrence was 0%.
We know that it was Mary's intercession that brought about that miracle of healing, just like at the Marriage Feast at Cana when Jesus answered his mother's request to turn water into wine.
Have you found that special oratory item yet? If not, see "The Most Important Room".