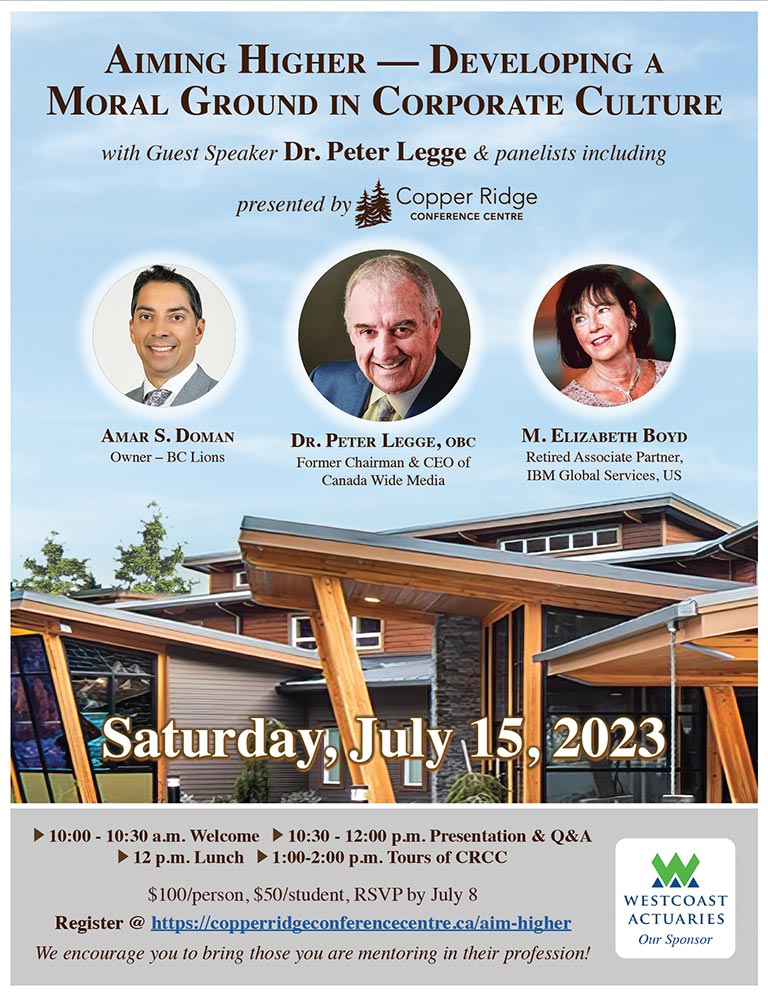 Aiming Higher – Developing a Moral Ground in Corporate Culture
Thank you to our speakers, to all our attendees and our sponsor for a successful event!
On Saturday, July 15 professionals from diverse backgrounds gathered at Copper Ridge Conference Centre to participate in the Centre's first "Business Leadership Seminar" which featured the theme "Aiming Higher – Developing a Moral Ground in Corporate Culture." Peter Legge, entrepreneur, engaging speaker, philanthropist, and loving family man was our keynote speaker. Peter is the founder and former Chairman and CEO of the largest, independently owned media publishing company in western Canada – Canada Wide Media Limited which oversees nearly 50 publications including names we're all familiar with- the influential "BC Business Magazine", "TV Week", "Western Living" and "Vancouver Magazine". Peter was voted top speaker in North America by Toast Masters International and he is the recipient of BC's highest honour, the Order of British Columbia. He shared his experiences and favourite lessons on how to elevate leadership skills and drive yourself to new heights through the values of integrity, never giving up, and taking control of opportunities. He said, "You have to take control of you. You have to take control of those decisions which cause you to grow — the books you read, the places you go, the language you use, the people that you meet…they help shape you over the course of your life. So what do you want to do? Because we only get good at whatever we practice."

Panelists Amar Doman, owner of BC Lions and Futura Corporation, and M. Elizabeth Boyd, Retired Associate Partner of IBM Global Services, then shared their stories of real-world examples of some of the ethical issues that arise in business. They both talked about the importance of integrity, truth, and a positive mindset in building sustainable businesses and leadership with a positive social impact.
Amar told the crowd about how he purchased the BC Lions in August of 2021, after meeting with the former owner for seven years. It was a lesson in determination and perseverance. Mr. Doman, founder and sole shareholder of the The Futura Corporation, one of British Columbia's largest privately owned companies which deals in asset management and investment is also CEO of Doman Building Materials, one of North America's largest producers of pressure treated lumber products as well as many other building material products which are distributed internationally. The company employs over 2500 people.
Amar enlightened the audience about starting his first business at the age of 18 with his only seed capital coming in the form of a $10K loan from his mother. He stressed the need to do due diligence in every deal, not taking information at face value.
Amar has spoken publicly about how he and his wife are trying to instill in their children the importance of giving back, making good choices, and developing strong character through hard work, self-discipline and treating others with fairness and respect. He even brought his three children to the event so they could hear first hand how to do this.
The other panelist, Elizabeth Boyd is from up-State New York and spent over 30 years in public and private sector jobs communicating public policy and computer solutions. She worked in NYS government for Governors Hugh Carey and Mario Cuomo serving as the Director of Communications for the NYS Department of Social Services. She then went on to private sector employment as the National Child Support Manager for Unisys, a global technology company, and in a variety of management positions at IBM including Associate Partner in IBM Global Services, Client Services Executive in IBM's Global Government Industry, and Business Development Manager and Solution Manager in IBM's Worldwide Revenue and Fiscal Management Team.
Elizabeth told two stories where she took the high road in business and one where her efforts fell short saying that she shared these, "because I believe others can learn from both the positive and negative we experience in life."
A spirited question and answer period rounded out the session which was followed by a lunch in CRCC's beautiful dining room and dessert and coffee in the lobby which led to lots of networking.
Though Copper Ridge is well known for its spiritual retreats, the business seminar demonstrated that it is also a place where people of all faiths are welcome and can gather to exchange ideas, be inspired to lead and serve and to achieve excellence in the art of living well.
Thank you to our event sponsor.
Email: info@wainc.ca | Phone: 604.730.1898